Your bedroom is your safe haven to relax and unwind. But how many of you find that your closet is overflowing with clothes and shoes, your nightstand is cluttered with books and glasses, toys run underfoot, and the top of your dresser is littered with pieces of jewelry?
To help you get started on decluttering your bedroom, we've gathered some great ideas to simplify your sacred space:
1) Tackle your closet: This hanging organizer can hold miscellaneous items that don't fit on hangers.
[Source]
2) Get ahead on getting dressed: Use old CDs or reuse cardboard and apply printed CD labels to organize your outfits of the day.
[Source]
3) Display your jewelry: Salvage old poster frames and line with fabric or gift wrap to create a nice backdrop for hanging jewelry. You can use old drawer pulls or fishing line.
[Source]
[Source]
4) Smart Shoe Storage:Overwhelmed by mountains of shoes falling out of your closet? Use PVC pipe to quickly find the right pair.
[Source]
5) Tackle toys: Do bits and pieces drive you a little crazy? Create fun storage canisters with mason jars and hot glue action figures to the tops.
[Source]
6) Tidy Your Tights: Clothespins save the day with this nifty organizer.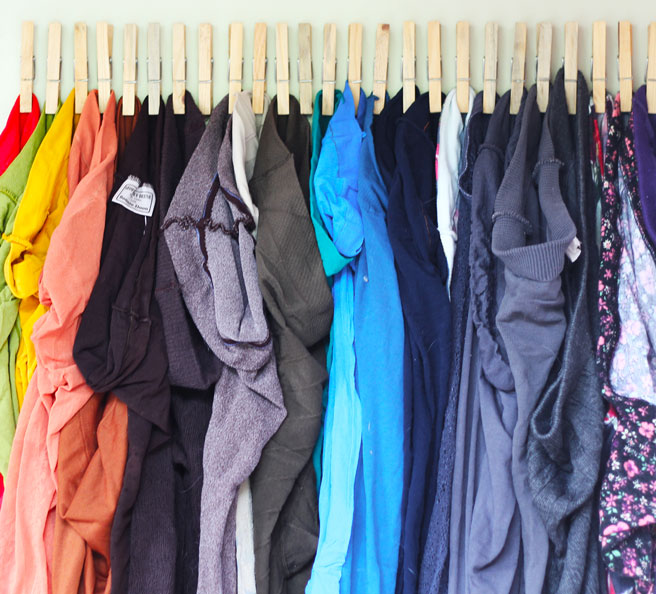 [Source]
7) Hang Your Tank Tops: Instead of folding your tank tops, keep them color coordinated by hanging them from shower curtain rings on a hanger.
[Source]
Share your tips in the comments below, how do you keep your bedroom tidy?